Posts Tagged Trent Reznor
War Criminals Watch is joining with the ACLU, Amnesty International, many other organizations, artists and musicians like Tom Morello and Trent Reznor to "flood Twitter" and Facebook today, Thursday, January 21st with messages to #closegitmo. YOU can help, by spreading the word now, and tweeting messages tomorrow about Guantanamo, torture, habeas corpus rights, and more – using the hashtag #closegitmo. You can also "donate" your Facebook status for the day with this message. We want to dominate the social networking discussion on Thursday with the message that torture and the prison at Guantanamo still continue, but must be stopped.
Follow us on Twitter at worldcantwait, and go to the link below to find an image to use for the day on as your Twitter or Facebook avatar. Check out the stream of tweets about closing Guantanamo here.
Thursday January 21st – more than a year since Obama promised Guantanamo would be closed, join us in flooding twitter and facebook with the message to #closegitmo. Use this image for the day as your avatar.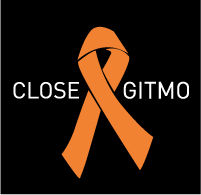 Sample tweets:
People have been tortured to death at Guantanamo. Read Scott Horton in Harpers: http://tinyurl.com/yleps6f #closegitmo
"How I fought to survive Guantánamo" the former detainee Omar Deghayes http://tinyurl.com/ybolnth #closegitmo
Take action to #closegitmo. We want to know what you think. More than 800 people have taken this survey http://tinyurl.com/ydtp9ju
The Guantanamo Files: the stories of the human beings tortured in our names.  http://tinyurl.com/6nezl5 #closegitmo