Posts Tagged torture memos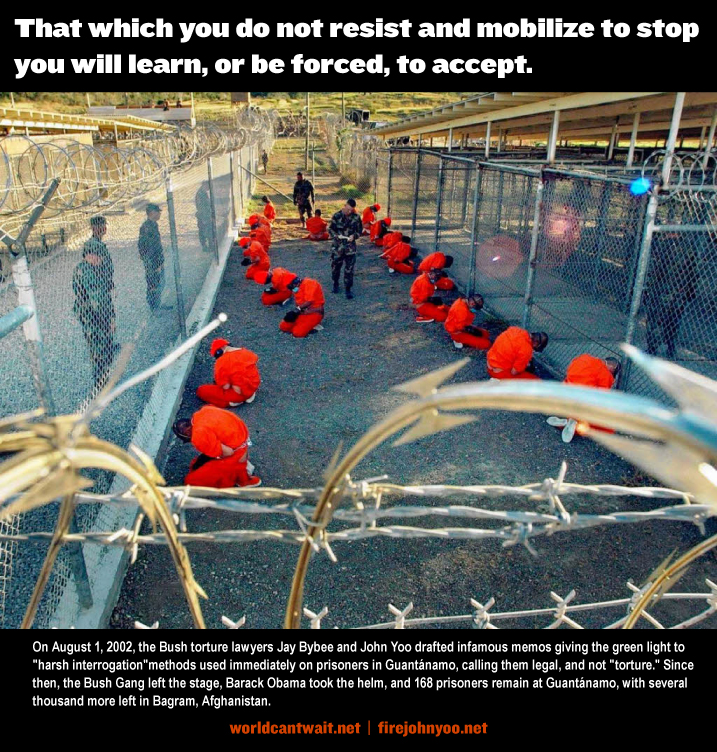 Ten years ago today, lawyers for the Bush Regime sent memos up the chain of command which quickly reached the military and the CIA. The August 1, 2002 "torture memos" authored by attorneys in the Office of Legal Council at the White House gave the green light to torture, calling it "harsh interrogation" and completely legal.
Prisoners in Guantanamo were immediately water-boarded, "walled," put in isolation, deprived of sleep. A few were men the US thought were part of al Qaeda; most of them were just guys sold to the US by someone in Afghanistan for bounty. Almost none of them, it's now admitted, were involved in criminal activity, or even military struggle, against the US. But, they were still "the worst of the worst."
I was reminded of this anniversary by Curt Wechsler, who edits FireJohnYoo.net, a project of World Can't Wait:
The clock is ticking. August 1st marks the 10th anniversary of the adoption of professor John Yoo's "Torture Memos," which sanctioned mental and physical torment and coercion practiced by the state. It's been 9 years since those same documents were found legally defective and withdrawn. The Bush Gang left the stage, Barack Obama took the helm, and 168 prisoners remain at Guantanamo.  These men must not be forgotten, or their stories conveniently swept under the rug for the remainder of this election season.
Amy Davidson, a senior editor at The New Yorker, interviewed Jose Rodriquez, who for 30 years was head of the Counterterrorism Center during his 30 years at the CIA and who recently published a book defending everything done to prisoners, Hard Measures: How Aggressive C.I.A. Actions After 9/11 Saved American Lives.  Rodriguez neatly recounted where the Torture Memos fit:
Over the summer of 2002, when we knew we had to do something different to get information out of Abu Zubaydah, who had been captured a few months earlier, we worked with our lawyers to make sure that we came up with techniques that were within the law. These techniques were vetted with the Department of Justice and the White House—with the policy people and the leadership people at the White House. Then, on August 1, 2002, we received a binding legal opinion in writing from the Justice Department that said waterboarding and nine other techniques we wanted to implement were not torture. We then went to the White House and asked the N.S.C. to give us policy approval to proceed, and for the President to direct us to proceed. And they did. A month later, when the Congress came back to town, we briefed the leadership of the House and Senate committees on intelligence, both Democrats and Republicans. They had no objection.
Which is the point, exactly.  Everyone was in on it; "everyone" now in government has no objections to what happened. John Yoo teaches constitutional law at one of the most highly regarded law schools, Boalt Hall at UC Berkeley, protected, and actually defended by an administration that uses its liberal credentials as a shield against justice. Jay Bybee got a gig as a federal judge, nominated by G.W. Bush and approved by the same Congress which was OK with torture methods as long as they were named harsh interrogation."
And none of the torture team partners has suffered indictment, or even deeply serious investigation by the Obama administration.
I have to add a thanks to Women Against Military Madness in Minneapolis, who are outside the Federal Building in Minneapolis today in an action called Tackling Torture at the Top.
And from Curt Wechsler:
My donation to World Can't Wait today will help send an orange-jumpsuited contingent to the Democratic National Convention to represent the victims of brutal prison policy, and all of us who say NO to torture.
Drones and Guantanamo, owned and operated in a bi-partisan fashion.  But it's the Democrat War party who got people at accept them as "normal" and even legitimate.
Memo from Jay Bybee to Alberto Gonzales
DATE: August 1, 2002
SUBJECT: "Standards for Conduct for Interrogation under 18 U.S.C. 2340 – 2340A"
AUTHOR: Jay Bybee, Assistant Attorney General, Office of Legal Counsel 
In what has become notorious as the "torture memo," Jay Bybee signs off on an opinion authored by John Yoo. The memorandum systematically dismisses numerous U.S. federal laws, treaties and international law prohibiting the use of torture, essentially defining the term out of existence.
Letter from John Yoo to Alberto Gonzales
DATE: August 1, 2002
SUBJECT: N/A
AUTHOR: John Yoo, Deputy Assistant Attorney General, Office of Legal Counsel 
John Yoo writes to White House Counsel Alberto Gonzales warning of potential threats of international prosecution regarding the administration's interrogation policies. Yoo notes that "Interrogations of al Qaeda members … cannot constitute a war crime" because of the Presidential determination that Geneva's protections do not apply.
Memo from Jay Bybee to the CIA
DATE: August 1, 2002
SUBJECT: Memorandum for [REDACTED] Interrogation of [REDACTED]
AUTHOR: Jay Bybee, Assistant Attorney General, Office of Legal Counsel 
Written by the Office of Legal Counsel's Jay Bybee and sent to the Central Intelligence Agency, this heavily redacted document was released to the ACLU in 2008. It details "advising the CIA regarding interrogation methods it may use against al Qaeda members," and in one un-redacted portion, argues that "to violate the statute, an individual must have the specific intent to inflict severe pain or suffering. Based on the information you have provided us, we believe those carrying out these procedures would not have the specific intent to inflict severe pain or suffering."
"You are the most charming torture author I've ever met." – Jon Stewart to John Yoo.
Isn't the key part of that sentence "torture?" Yoo, indeed, provided the legal justification necessary for the torture that defined the Bush years (and in fact, continues under Obama today).
Watch the video: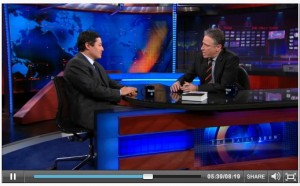 John Yoo restrained himself from publicly announcing that the President can "crush the testicles" of the child of someone suspected of terrorism on this influential show, and bantered in a friendly way with Jon Stewart.
But neither that restraint, nor Stewart's recommendation that people read his book for insight into the "human struggle" the Bush regime was engaged in, nor Stewart's plea not to "demonize" Yoo can cover up the trail of blood that leads to this "esteemed" Berkeley law professor's door. Torture (which, as used by the U.S. over the past 8 years has meant: beatings, hanging people from ceilings, or chained to the floor in stress postions for hours or days, force-feedings in the most gruesome ways possible, extreme heat and cold, blinding people, locking them in boxes with insects, and the known deaths of more than a hundred detainees) is against U.S. and international law, and shocks the conscience of anyone with any humane ethics. The lawyers who crafted the torture memos were not just working for their clients. They are war criminals.
Josh Richman, on Political Blotter, the Bay Area Politics blog quotes Stephanie Tang, from World Can't Wait in San Francisco in Protestors can't find Yoo, but Jon Stewart did
"We continue to call for Yoo to be fired, disbarred, and prosecuted for war crimes, along with his entire cohort from the Bush-Cheney Torture Team," World Can't Wait organizer Stephanie Tang said in a news release. "Torture is a war crime. Thousands have been tortured thanks to John Yoo's work for the White House, long after Yoo himself returned to teaching. The faculty and students right here at UC – and all people of conscience everywhere — need to denounce these crimes, not turn away in silent complicity."
Yoo continues to travel the country promoting his book. Today, he'll be protested on both sides of the country… at his scheduled first day of class in Berkeley, and in NYC at his book event. You can join us!
Watch this blog for coverage of the protests.