Posts Tagged Revolution
1.  Why we call the Tea Party and their leaders in Congress racist:
a. Destruction of voting rights & open promotion of white supremacy.  See The Tea Party's Legacy of Racism by Robert Parry
To this day, much of the American Right has refused to come to grips with the idea of non-whites holding U.S. citizenship. And, there is now a palpable fear that the demographics of democracy might finally eradicate white supremacy in the United States. It is that last-ditch fight for white dominance – as much as anything else – that is driving today's Tea Party.
b. Support for Anti-immigrant laws.  See Peter King's remarks at Anti-Immigration Rally Kicks Off Push to Block Law Change
c.  Slavery was ended through a civil war 150 years ago.  That promotion of the Confederate flag argues for a different outcome of that war should be self-evident.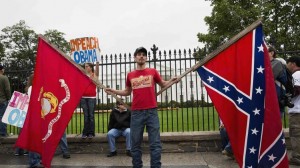 rally, addressed by Sarah Palin & Ted Cruz moved in front of White House.
2.  The term "fascist" should not be used just because you personally don't like someone and are trying to deliver the ultimate insult, or because you don't agree with their opinion. We use it instead, and in this case, to describe the Republican Party's hard core based on the society they are working to bring about, one where power and rule of law will reside only with those who promote that agenda; wealth will become even more concentrated, and dissent suppressed through vast surveillance.  The most aggressive of the Republicans want a government which provides no social services, leaving people to the mercy of the market, repressive laws and so-called "traditional" values.
Revolution describes the
extreme remaking of U.S. society called for by the section of the ruling class identified with the Republican Party.  To them, church and the family—and traditional fundamentalist Christian religion and draconian, repressive family values—must assume a radically greater role in the functioning of society. God, guns (in the hands of racists, anti-immigrant vigilantes, and fascists), and religion are asserted with a vengeance…virulent dog-eat-dog, look-out-for-#1-individualism, as they rail against "big government."
Dennis Loo in Reaping What You Sow: the Radical Right, Fascist Norms, and the Future describes the current government shutdown as
a foretaste of the radical right's deadly serious agenda to take sole power, irrespective of their increasing unpopularity and irrespective of the supposedly sacrosanct rules, principles, laws, and customary ways of doing things in this country. Their targets for overthrow include the Constitution's separation of church and state as well as all of the institutions and arenas of society. This is their attitude, about which they are entirely sincere: "We want it all and we are not going to stop until we get it, because God's on our side and anyone who stands in the way will be beaten to a pulp because we are the lambs of Jesus."
Henry Giroux in The Ghost of Authoritarianism in the Age of the Shutdown describes the last few decades when
it has become clear that those who wield corporate, political and financial power in the United States thrive on the misery of others. Widening inequality, environmental destruction, growing poverty, the privatization of public goods, the attack on social provisions, the elimination of pensions and the ongoing attacks on workers, young protesters, Muslims and immigrants qualify as just a few of the injustices that have intensified with the rise of the corporate and financial elite since the 1970s.
Naming fascism for what it is does not mean fascism will happen here, or that it is inevitable.  It means we should face the reality that the forces who brought the shutdown are very dangerous, and do all we can to create a political situation where society goes in another direction altogether.
In The Shutdown, the Showdown, and the Urgent Need To Repolarize… For Revolution, part of the challenge – to act with a different morality -  is captured here:
There is the basis to fight for and live a different morality—a morality based on ending and getting beyond exploitation and the narrow calculations of "me against the world," one based on emancipating all humanity—a morality of putting one's life and energies to that and daring to say "this is morally right—and the morality that either reinforces or leaves untouched a world based on exploitation and filled with oppression is wrong."
World Can't Wait's 2005 Call to Drive Out the Bush Regime said "YOUR GOVERNMENT enforces a culture of greed, bigotry, intolerance and ignorance."  Eight years later, it is even more correct.
If you read only a bit of this post, make it the following paragraph, and then buy your ticket here. Revolution newspaper asks and answers:
"Why go to this film premiere? Simply: It's by far the most important thing people could be doing that day–it's dealing with the most important thing there could be–because it's about the real possibility of bringing into being a radically different world, where all this madness, all the oppression and injustice, all the abuse and degradation that is so much a part of life now, would be done away with. If anybody can think of anything more important than that–let's hear it!"
My personal invite to you is based on what's possible, and necessary, and what's true.
Often, people ask me why I haven't quit trying, in discouragement, to change the world, or even to just stop the crimes of the US government through a mass movement of people, as supporters of World Can't Wait are working on.  The challenges are obvious, and I am aware of how rare – much too rare — it is to refuse to give in.
Part of the answer to why I'll never give up is that I'm continually outraged, and don't accept this as the "best" of all possible ways the world could be.  I came of age in the 60′s, amongst the struggles of Black people, women, people around the globe struggling for justice and liberation, which set the stage for being a rebel.
More significantly, I saw the possibility of a much better society because the largest country in the world then was socialist – The Peoples' Republic of China.  The most vibrant, scientific, inspiring propagators of revolution internationally were the revolutionary communists who came out of that worldwide movement.  At the center of that ferment was Bob Avakian, BA, the leader of the Revolutionary Communist Party, USA.
Cornel West introduced BA in a recent interview  as "one of the few coming out of the 60′s who never sold out, he never caved in, he never gave up, held on to his forging of a rigorous, scientific analysis of the objective realities that are driven by a revolutionary love – because he has such a deep love for poor people, oppressed people, all around the world."
I heard him speak late last year.  BA made an extremely deep-going call to get with the movement for revolution, calling out the crimes of the imperialist system, envisioning how society could be, outlining the strategy to work through the huge challenges in how to get there.  He said something that has stuck with me, and I'm paraphrasing here, that if you see all those horrors, and you know it doesn't have to be that way, why would you not want to be working and struggling to end this?  He talked about the need to confront reality, looking at the horrors this system creates, continually, and then applying science to transform the contradictions to create a whole different world. That resonates with me.  You can get more, right now, from BA by listening to an interview with Michael Slate on KPFK, where he went into these points.
Avakian and the RCP are leading a movement for real revolution, with a Constitution for the Socialist Republic in North America, (draft proposal), which aims to bring about a:
socialist state which would embody, institutionalize and promote radically different relations and values among people; a socialist state whose final and fundamental aim would be to achieve, together with the revolutionary struggle throughout the world, the emancipation of humanity as a whole and the opening of a whole new epoch in human history–communism–with the final abolition of all exploitative and oppressive relations among human beings and the destructive antagonistic conflicts to which these relations give rise.
Hearing BA in BA Speaks: REVOLUTION-NOTHING LESS! in a theater with hundreds of others on the road to discover what can be done to end this madness and bring about the emancipation of all humanity is something I invite you to join me in doing.  What could be more important?
This trailer is playing at the Magic Johnson Theater in Harlem, where the film will premiere Saturday:
The film is simultaneously premiering in Chicago, San Francisco, and Los Angeles in addition to Harlem. Details and tickets here.
In 2007, World Can't Wait led protests against what seemed then a likely U.S. attack on Iran, accompanied by threats from the Bush Regime to send "bunker buster" missiles  deeply into Iran's territory.  War could have happened then.
But the lies we heard coming from our government 5 years ago about Iran's "nucular" capability from Bush now seem quaint.  Recycled "intelligence" reports from years ago are presented by the Obama administration as justification for new threats, sanctions, and war preparations.
Larry Everest says today, in Revolution:
Ground is being laid daily in the headlines and statements by politicians of every stripe in mainstream U.S. politics calling for aggression against Iran—all justified by unsubstantiated assertions that Iran is pursuing nuclear weapons.

Iran is a non-nuclear, Third World country. The U.S. is the world's most powerful nuclear weapons state—with over 4,000 warheads.  It's the only country to ever use nuclear weapons, killing 150,000-240,000 people in the 1945 bombings of Hiroshima and Nagasaki in Japan (with many more dying of the effects of radiation for years after). It's the main backer of the one country in the Middle East that actually does have nuclear weapons—Israel.
There are stirrings of opposition within the U.S. to such a dangerous war, risking, as it would, a much wider war, and possible use of nuclear weapons by the U.S. or Israel. The
Midwest Antiwar Mobilization
put out a call for protest:
If an attack begins in the morning, before noon our time, everyone should assemble that day at 5 p.m. at the Federal Plaza. If the attack comes later, we will protest at 5 p.m. the next day.
They say, and I agree:
The U.S. claims to uphold democracy and the rule of law, but in fact international law in the UN Charter and elsewhere condemns such aggression as a crime. Regardless of what excuse the U.S. gives for attacking another people, we must firmly oppose such U.S. slaughter of human beings.
These are the worlds within worlds which we cannot hold in our awareness at all times,  and which Presidents and Admirals do not appear to think about or care about. Now the sanctions kick-in (because we need to look strong) and the counter attacks and reproaches are issued in reply, in an escalating spiral.

This is how wars start.
We can't be silent on this one, people.