Posts Tagged NYPD
Over the last few weeks, there have been many protests to stop police brutality in NYC.  I've been at two very dynamic and inspiring civil disobedience actions to STOP "Stop & Frisk," including the most recent on Tuesday in Brownsville, Brooklyn, where the NYPD stops people at the highest rate.  Most are young men, but I met several men way over 40, and a woman in a wheelchair who have all been stopped in the area.
28 people were arrested almost as soon as they stepped in front of the 73rd Precinct.  It took until sometime today to get them all out of jail. The last young man released, a 2011 college graduate, just cannot find a job.  He has no arrest record, no tickets, but they still held him almost 48 hours for not having a photo ID.  He just told me on the phone however, that despite dealing with mice and nasty conditions, it was a "much-needed" experience, and he learned a lot from the men he was locked up with.  Going home? No, "I'm going right back down to Occupy Wall Street. THANKS for getting me out!"
This campaign is not stopping, and I am so happy to be doing it with such vibrant, committed, radical people, from clergy to communists.   A question came up at a meeting, from someone who had been arrested in the first action in Harlem, "Are we only trying to stop one policy of the NYPD, or are we thinking about more?  I've been stopped and frisked in other cities, including in other countries."  It's systematic.
On October 22, I was at my 16th consecutive annual protest to "Stop Police Brutality, Repression, and the Criminalization of a Generation."  Once again, heart-breakingly, the parents and siblings of people killed by the police got their chance to speak.  I thought mainly of how many years the toll has piled up.  And these are only a few cases!  Hmm, it's systematic.
The repression thing, too, is systematic.  The policing of political protest — and I think this is why the authorities really hate the idea of Occupy Wall Street in Brownsville, Brooklyn — is about repressing dissent.  Tana Ganesa asks a good question today on Alternet, "Why is OWS Blanketed with NYPD Cameras, and Are Police Breaking the Law?"  She writes about the Lower Manhattan Security Initiative's office where Wall Street firms have access to the footage taken by thousands of surveillance cameras
The surveillance gadgetry available to the NYPD, and apparently to the very finance industry forces that OWS is protesting, is sophisticated. There are license plate readers that can capture license plate numbers and match them to a database. The cameras can be programmed to alert officers to activities like loitering, and people can be followed as they move from camera to camera.
Mostly, police departments don't have the legal authority to maintain records on people not suspected of criminal activity, but increasingly, that's just what they do.  From the first week of Occupy Wall Street, officers from NYPD's TARU, the Technical Assistance Response Unit, have ringed the plaza, constantly scanning activity, and peoples' faces.
This whole "police state" atmosphere doesn't begin and end with local police departments.  Ken Theisen, in Spying is US: Obama Administration Spends $80 Billion to Continue and Expand Bush Spy Programs details how these programs are growing nationally, with a budget of $80 billion over the last fiscal year
"Only" about $3.5 billion of this amount was spent on Iraq and Afghanistan according to the Department of War.  So how are they spending the other $76 billion?  A look at the 2010 Washington Post Series called TOP SECRET AMERICA   gives you an idea of where much of the money goes.
This machine carries out a systematic, criminal repression of the people.  That's why the mission of World Can't Wait is to end the crimes of our government.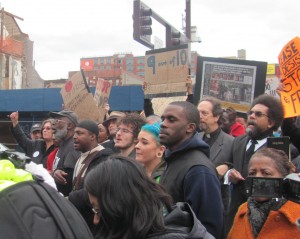 The mass civil disobedience led by Carl Dix and Cornel West on Friday tapped into a deep well of rage and anger at the racial profiling by the NYPD which is concentrated in "stop and frisk."  Carl and Cornel were joined by 34  locking arms in front of the 28th Precinct, and hundreds more in support, including a contingent from Occupy Wall Street, based on a unanimous decision at Thursday's General Assembly to endorse the action.
We marched through the streets of Harlem, greeted by fists pumping and smiles.  This mass resistance could potentially change how people respond to systematic racial profiling, an issue which is going to be fundamentally decided in the streets, with a diversity of people putting something on the line.
Dix and West see Friday's action as the first of a new stage of mass resistance to "stop and frisk," as a door to exposing and fighting the New Jim Crow.  There will be no stopping mass racial profiling without mass resistance.  It has begun.
The action resonated because it hit on a profoundly sharp and deeply entrenched, politically explosive contradiction of the all around criminalization and mass incarceration of Black & Latino people, one that touches to the very core of what this country is about and what holds it together, or could tear it apart (and which has historically done so).  The police lashed out, and held two young organizers who had spoken in many schools, both of whom were not  released until Saturday night on charges of resisting arrest.
Carl Dix was the featured speaker at the October 22nd march to stop police brutality from Union Square to the LES with close to 1,000 marchers, bolstered by Wall Street occupiers.  Carl, joined by Cornel, has been speaking to thousands around the country, calling for a movement of resistance to stop these policies.
From Carl, in the Huffington Post Black Voices, Why I Am Getting Arrested Today
This policy is wrong. It is illegal, racist, unconstitutional and intolerable! It is just one of the many pipelines into the wholesale mass incarceration of a generation of Black and Latino youth. Today there are more than two million people held in prison in the U.S. That is the largest prison population in the world! And its not just men; more than one third of all women imprisoned in the entire world are in prison in the U.S.
Along with Carl and Cornel, the core group of those arrested were Rev. Stephen Phelps of Riverside Church; Rev. Earl Kooperkamp of St. Mary's Episcopal Church in Harlem; Jim Vrettos, a professor of Sociology at John Jay College of Criminal Justice; and myself and Elaine Brower of World Can't Wait.  We were joined by students from CCNY, Columbia & Barnard; Wall Street Occupiers and, very importantly, people who have been victimized by "Stop & Frisk."  8 of us planned to be arrested; the fact that 26 more joined on the spot shows the potential of this as a beginning of mass action.
75 people met in Harlem on Sunday to plan the next phase of the campaign.  More on that soon!  Join in at stopmassincarceration@ymail.com.  See http://stopmassincarceration.tumblr.com/  And here it is:
Tuesday November 1: Stop 'Stop & Frisk' Direct Action
Tuesday, November 1, 2011 – 4:00pm – 7:00pm
NYPD 73rd Precinct, 1470 East New York Ave, Ocean Hill – Brownsville, Brooklyn
973-756-7666, stopmassincarceration@ymail.com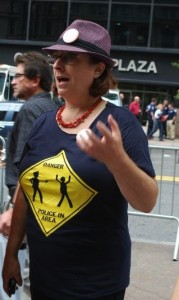 On Friday, October 21st, I plan to join in a non-violent civil disobedience action as part of a new and very important, courageous, campaign to stop "Stop and Frisk."
I am answering a call issued by Cornel West and Carl Dix to engage in non-violent civil disobedience to stop this illegal policy of the New York Police Department.   Carl and Cornel say:
The NYPD is on pace to stop and frisk over 700,000 people in 2011! That's more than 1,900 people each and every day. More than 85% of them are Black or Latino, and more than 90% of them were doing nothing wrong when the pigs stepped to them…WE ARE STOPPING ALL THIS.  YOU MUST JOIN US IN DOING THAT.
To be clear, I have never been stopped or frisked by the New York police solely because of my appearance, as 1,900 men are, every day, according to the New York Civil Liberties Union, who is also fighting "stop and frisk."  I haven't been thrown up against a wall, detained, questioned or jacked up solely because I fit a vague description. But, I don't want to live in a city where people have to go through this.
I have been arrested over the years, but so far, solely in the process of protesting injustices ranging from U.S. wars of occupation to murders by police, or the targeting of abortion providers by people who wanted to kill them.  I believe people have to take action to stop injustice.
That's exactly why I'm joining Carl, Cornel, Rev. Earl Kooperkamp, Rev. Stephen Phelps, Rev. Omar Wilks, and others in an action to stop the NYPD from what they say is a practice which is "illegal, racist, unconstitutional and intolerable."
Carl Dix, interviewed today in Revolution, described why he, Cornel and others decided that mass resistance to "stop and frisk" is necessary
The intensifying brutality being enforced in the inner cities is like a slow genocide that could be accelerated.  This must be met by unleashing resistance that is broader, fiercer and more determined.  And unleashing this kind of resistance around Stop and Frisk in NYC on October 21 and nationwide on October 22 would have a powerful positive impact on the situation.  It could speak to very real questions people have.  It can bring to the people occupying Wall Street a sense of how the police brutally enforce inequality and oppression 24-7 in the ghettos and barrios across the country.  And it can address the question many oppressed people have of whether there are any forces that would stand together with them in fighting the hell the system brings down on them or are they alone in this fight.  This resistance could contribute to creating a sense that things really don't have to be this way among a diverse and growing section of the people.
So, all of you who want to do some good, who feel beaten down, or who feel unstoppable, join this action in some way.
Follow @StopMassIncNet on Twitter.
Send a support statement to debrasweet@worldcantwait.net.
Join us in taking the action, or come along to cheer us.  As the call says
If you are sick and tired of being harassed and jacked up by the cops, JOIN US. If you have had enough of seeing your brothers and sisters, your cousins, your aunts and uncles and fathers stepped to and disrespected by the cops, JOIN US. If you don't want to live in a world where people's humanity is routinely violated because of the color of their skin, JOIN US. And if you are shocked to hear that this kind of thing happens in this so-called homeland of freedom and democracy—it does happen, all the damned time—you need to JOIN US too—you can't stand aside and let this injustice be done in your name.