Posts Tagged Muslims

A federal judge in New York sentenced Dr. Aafia Siddiqui to 86 years in prison today.  Her trial earlier in  2010, on charges of assault against U.S. soldiers in Afghanistan, was a travesty.  Obviously mentally distraught, having suffered isolation and alleging torture at the hands of her American captors, but remarkably perceptive and witty, Dr. Siddiqui was convicted of attempting to shoot U.S. special forces who were interrogating her.
Convicted murderers in the U.S. get 25 years, sometimes life.   People who shoot others get years in prison.   Those who commit war crimes generally don't even get prosecuted, but that's another story.  Aafia gets 86 years, but was not even charged with actually harming anyone, and certainly did not, as the defense showed in the trial.  She was shot in the stomach, and brought to the U.S. while still recovering form her wounds.  She is a victim of the Bush regime's so-called "war on terror, " as I wrote at the time in Victim of the War of Terror: Dr. Aafia Siddiqui.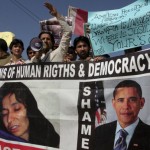 There were mass protests in Pakistan, Siddiqui's country of origin, at her prosecution, forcing the Pakistani government to pay for her defense in U.S. courts.  We probably will never know the intrigues behind the scenes, as the U.S. dominates and threatens Pakistan, while it's also dependent on Pakistan's ISI to contain the Islamic fundamentalist movement along the border with Afghanistan.  The U.S. bombs civilians in Pakistan — a country with which it's not at war, but supplying huge amounts of weapons to — while, according to Seymour Hersh, important sections of the Pakistani military support the Taliban.
In the midst of all this, thousands of Pakistanis are disappeared, and a woman like Dr. Siddiqui, herself disappeared for several years, has no chance of justice from either government.
Dr. Siddiqui asked supporters not to raise funds for an appeal.  The Guardian reports
Before the sentencing, Siddiqui repeated her claim that she had been abducted and held at a "secret prison" for several years. She said she only wanted peace in the world. "I do not want any bloodshed. I do not want any misunderstanding. I really want to make peace and end the wars."
"Killing Club" in Afghanistan
While Dr. Siddiqui's trial went on in New York, with the prosecution bringing in her military interrogators to say how traumatized they were by her actions, their compatriots back in Afghanistan were preparing the "surge."   Civilian and US military deaths began increasing; indeed 2010 already has more military deaths than any year of the U.S.' longest war.
Part of that story is beginning to come out with the prosecution of U.S. Army Stryker Brigade members for targeted murders of Afghani civilians.  Real News interviews the Seattle Times reporter Hal Bernton who is following the case.
U.S. Soldiers Charged with Targeting Afghan Civilians: Did U.S. Soldiers Create Afghan Killing Club?
Only because one soldier had misgivings about what his unit was doing, the military started a criminal investigation in May 2010.  5 soldiers are charged with killing civilians, and 7 with covering up the killings.  The Washington Post reported earlier this month, Members of Stryker Combat Brigade in Afghanistan accused of killing civilians for sport.
BBC reported in US troops 'murdered Afghan civilians and kept body parts':
In charge sheets obtained from the US Army, Staff Sgt Calvin Gibbs, Cpl Jeremy Morlock, Pte First Class Andrew Holmes, Specialist Michael Wagnon and Specialist Adam Winfield are accused of murdering male Afghan civilians with grenades and firearms.

Other soldiers were accused of stabbing an Afghan corpse, taking or possessing photographs of casualties and beating other men in an effort to keep them from talking to investigators.

The soldiers were attached to the Army's Fifth Stryker brigade, which deployed to Afghanistan last year and has seen heavy fighting around Kandahar. They were based in Washington state.
The reports get worse.   The Army Times, in a candid piece on September 13, describes rampant hashish consumption and alcohol binges in the unit, while writing these crimes off essentially as "isolated incidents".
The charges only came about because a member of the unit complained to his father that he was being threatened because he opposed the killings.  In the New York Times blog today, his father, Chris Winfield, charges that the Army ignored his warnings, made before some of the later killings in May 2010, just as General McChrystal was being replaced. Father: Army Ignored Complaints Of Afghan Slayings
The whole U.S. occupation of Afghanistan is illegitimate, unjust, and immoral.  The U.S. military is being led to commit war crimes.
The population of the United States is being directed to fear Muslims, who face political targeting and prosecution.  See Project SALAM.
As the anniversary of the U.S. attack on Afghanistan approaches, October 6, we should step up the loud and visible protest, demanding that the U.S. get out now.