Posts Tagged jon stewart
The counter-attack of city authorities to clear the "Occupy" movement has now led to a serious injury, leaving protester Scott Olsen critically injured by an injury to his brain from a police projectile.  Oakland police attacked a peaceful encampment on Tuesday at 5:00 am, after massing 500 police, for hours.  Within minutes, hundreds were driven away, and police destroyed everything.
Tuesday evening, over 1,000 people gathered again in downtown Oakland to protest the eviction, and they were attacked viciously with tear gas canisters shot into the crowd, concussion grenades, and reports of rubber bullets.
While New York Mayor Bloomberg was not able to carry through on his eviction plan of Occupy Wall Street on October 14, because thousands of people answered a call to defend it, we continue to hear rumors and threats, as the New York Post, Fox News and other reactionary media outlets argue for more police repression.
Last night, hundreds from Occupy Wall Street marched uptown to protest the police attack on Oakland, and have adopted the slogan "We are All Scott Olsen."  I've been on the phone all afternoon with a young woman arrested last night in the march who received a puncture wound in the leg from being beaten up by police.  She's still awaiting arraignment, and may be there until Friday.
The authorities cannot tolerate such gatherings in public space.  Huge numbers of police are surrounding the encampments, and any marches proceeding from them.  Is there anyone that thinks, if there were just more police, that would solve any of the underlying problems causing people to take to the streets in a mix of desperation, anger, and hope?
Kristin Gwynne writes today on Alternet about Scott Olsen:
The videos of his injury (below) are heartbreaking.  The victim is lying in the street, bleeding from the face.  Demonstrators run to help him, and a cop tosses a canister at the crowd gathering around the injured vet.  It explodes. Carried out by a  group of organizers, Olsen emerges from a cloud of smoke, bleeding from the head, his eyes in a daze. His body is limp, with his arms dangling above his face.  When they scream "what's your name?" he can't respond. His hand moves, but his eyes stare straight ahead. The crew screams in horror "MEDIC!! MEDIC!!!"
Jon Stewart was shocked by the Oakland police attack.
"They were concerned about a public safety threat, so they did this? [cue footage of tear gas clouds and exploding stun grenades]."
There's no evidence yet that the police attacks are deterring people from their righteous occupations in the U.S., as the much, much, more violent state repression against the spring uprisings beginning in Tunisia did not, and has not stopped, the people, who continue in Syria, Bahrain, and Yemen to battle the authorities.
Occupy Oakland is back, bigger than ever, and for the time being, the city has backed off with the heavy police presence, at least for now.  Occupy Wall Street is sending them $20,000 and new tents.
We need our own version of mass support for the occupations.  If you can't get to one right now, get into print, get online, get on the phone, and weigh in:
"Hands off Occupy!"
"You are the most charming torture author I've ever met." – Jon Stewart to John Yoo.
Isn't the key part of that sentence "torture?" Yoo, indeed, provided the legal justification necessary for the torture that defined the Bush years (and in fact, continues under Obama today).
Watch the video: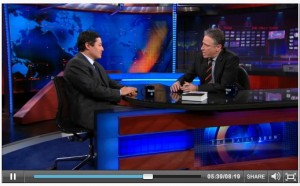 John Yoo restrained himself from publicly announcing that the President can "crush the testicles" of the child of someone suspected of terrorism on this influential show, and bantered in a friendly way with Jon Stewart.
But neither that restraint, nor Stewart's recommendation that people read his book for insight into the "human struggle" the Bush regime was engaged in, nor Stewart's plea not to "demonize" Yoo can cover up the trail of blood that leads to this "esteemed" Berkeley law professor's door. Torture (which, as used by the U.S. over the past 8 years has meant: beatings, hanging people from ceilings, or chained to the floor in stress postions for hours or days, force-feedings in the most gruesome ways possible, extreme heat and cold, blinding people, locking them in boxes with insects, and the known deaths of more than a hundred detainees) is against U.S. and international law, and shocks the conscience of anyone with any humane ethics. The lawyers who crafted the torture memos were not just working for their clients. They are war criminals.
Josh Richman, on Political Blotter, the Bay Area Politics blog quotes Stephanie Tang, from World Can't Wait in San Francisco in Protestors can't find Yoo, but Jon Stewart did
"We continue to call for Yoo to be fired, disbarred, and prosecuted for war crimes, along with his entire cohort from the Bush-Cheney Torture Team," World Can't Wait organizer Stephanie Tang said in a news release. "Torture is a war crime. Thousands have been tortured thanks to John Yoo's work for the White House, long after Yoo himself returned to teaching. The faculty and students right here at UC – and all people of conscience everywhere — need to denounce these crimes, not turn away in silent complicity."
Yoo continues to travel the country promoting his book. Today, he'll be protested on both sides of the country… at his scheduled first day of class in Berkeley, and in NYC at his book event. You can join us!
Watch this blog for coverage of the protests.