Posts Tagged civil disobedience
After the prosecution rests today, defense will move to have the charges dismissed.  As we said Monday, after the prosecution's main witness, the 103rd precinct commander testified, it's clear they have no evidence that anything at the 103rd was actually disrupted by our protest.  See the trial blog report.
It remains an outrage that this trial is even happening.  But the defendants and attorneys are determined to put stop-and-frisk on trial.
The cross examination of the Commander was enjoyable and memorable.  Many thanks to Marty Stolar, Tom Hilgardner and Meg Maurus for skillful and passionate work preparing for it.
Highlights today:  We hope the defense begins, and expect to hear witnesses who participated in the November 19, 2011 protest in Jamaica Queens.
AND we'll be outside the court 1:00 pm talking to the press, then delivering 1200 messages to the D.A. to drop the charges.  We hope you can come out (E/F train to Union Turnpike/Kew Gardens).  The trial may continue into next week, after the Monday Veteran's Day holiday.  Court will end at 1:00 pm Friday because of a juror request — and by Thursday we'll have a sense of how fast it will go.
Even if you can't come out, you can support in key ways:
We need $300 for a rush transcript of Monday's testimony.  Donate online, or send a check.
Facebook & Tweet posts on our Trial Blog, and forward this message.  There are still 6-7 trials, with 19 defendants in four boroughs, arising from the wave of mass civil disobedience we began last fall.
The October 30 benefit, postponed because of the storm, will likely be rescheduled for Thursday December 6.  YOU are needed on the promotion team, or to collect food/drink donations, clean up, work the door, etc.  Contact debra@worldcantwait.net to volunteer.
FRIDAY:  For all of you uptowners- we have a special request for support.
9:30 Friday November 9.  Bronx Criminal Court 265 E. 161st Street.
Court Support for Jeffeth James
Bronx Criminal Court
James was viciously beaten by NYPD, yet is facing charges.  This is the incident where Noche Diaz and 2 others were arrested observing the NYPD.  See News12 coverage.
Join Noche Friday morning if you can, in providing support to Jeffeth and his family.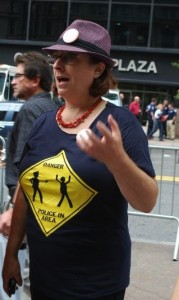 On Friday, October 21st, I plan to join in a non-violent civil disobedience action as part of a new and very important, courageous, campaign to stop "Stop and Frisk."
I am answering a call issued by Cornel West and Carl Dix to engage in non-violent civil disobedience to stop this illegal policy of the New York Police Department.   Carl and Cornel say:
The NYPD is on pace to stop and frisk over 700,000 people in 2011! That's more than 1,900 people each and every day. More than 85% of them are Black or Latino, and more than 90% of them were doing nothing wrong when the pigs stepped to them…WE ARE STOPPING ALL THIS.  YOU MUST JOIN US IN DOING THAT.
To be clear, I have never been stopped or frisked by the New York police solely because of my appearance, as 1,900 men are, every day, according to the New York Civil Liberties Union, who is also fighting "stop and frisk."  I haven't been thrown up against a wall, detained, questioned or jacked up solely because I fit a vague description. But, I don't want to live in a city where people have to go through this.
I have been arrested over the years, but so far, solely in the process of protesting injustices ranging from U.S. wars of occupation to murders by police, or the targeting of abortion providers by people who wanted to kill them.  I believe people have to take action to stop injustice.
That's exactly why I'm joining Carl, Cornel, Rev. Earl Kooperkamp, Rev. Stephen Phelps, Rev. Omar Wilks, and others in an action to stop the NYPD from what they say is a practice which is "illegal, racist, unconstitutional and intolerable."
Carl Dix, interviewed today in Revolution, described why he, Cornel and others decided that mass resistance to "stop and frisk" is necessary
The intensifying brutality being enforced in the inner cities is like a slow genocide that could be accelerated.  This must be met by unleashing resistance that is broader, fiercer and more determined.  And unleashing this kind of resistance around Stop and Frisk in NYC on October 21 and nationwide on October 22 would have a powerful positive impact on the situation.  It could speak to very real questions people have.  It can bring to the people occupying Wall Street a sense of how the police brutally enforce inequality and oppression 24-7 in the ghettos and barrios across the country.  And it can address the question many oppressed people have of whether there are any forces that would stand together with them in fighting the hell the system brings down on them or are they alone in this fight.  This resistance could contribute to creating a sense that things really don't have to be this way among a diverse and growing section of the people.
So, all of you who want to do some good, who feel beaten down, or who feel unstoppable, join this action in some way.
Follow @StopMassIncNet on Twitter.
Send a support statement to debrasweet@worldcantwait.net.
Join us in taking the action, or come along to cheer us.  As the call says
If you are sick and tired of being harassed and jacked up by the cops, JOIN US. If you have had enough of seeing your brothers and sisters, your cousins, your aunts and uncles and fathers stepped to and disrespected by the cops, JOIN US. If you don't want to live in a world where people's humanity is routinely violated because of the color of their skin, JOIN US. And if you are shocked to hear that this kind of thing happens in this so-called homeland of freedom and democracy—it does happen, all the damned time—you need to JOIN US too—you can't stand aside and let this injustice be done in your name.