Posts Tagged CIA
One man is as the center of a story you can't avoid in the media, since last Friday. General David Petraeus, architect of the U.S. "surge" in Iraq, pulled in to "save" Afghanistan, then bumped over to the CIA last year, was forced to resign because the FBI, we are told, found out about an affair he was having with a fawning biographer.
The other story is one you could barely find until days ago, despite the subject being a soldier who allegedly killed 16, including nine Afghan children, on March 11 last year near Kandahar. Robert Bales, an Army Staff Sargent, is said by the Army to have gone on a rampage in two villages, and is facing a court martial involving the death penalty.
Those in charge of U.S. national security are reeling, though you can hardly find a word of criticism for General Petraeus, save his admitted "indiscretion." He's said to be a national hero, and somehow even more of one, since he "sacrificed" his career and resigned.
This is completely outrageous. Michael Hastings, whose article in Rolling Stone led to the firing of General McChrystal in Afghanistan has also been following Petraeus for years. He writes that in Afghanistan:
The reputations of the men who were intimately involved in these years of foreign misadventure, where we tortured and supported torture, armed death squads, conducted nightly assassinations, killed innocents, and enabled corruption on an unbelievable scale, lie in tatters. McChrystal, Caldwell, and now Petraeus — the era of the celebrity general is over. Everyone is paying for their sins. (And before we should shed too many tears for the plight of King David and his men, remember, they'll be taken care of with speaking fees and corporate board memberships, rewarded as instant millionaires by the same defense establishment they served so well.)
David Petraeus ran two illegitimate, unjust occupations, the whole Central Command, and now the CIA. Adultery is surely the least of his crimes.
Bales, who did four tours in Iraq and Afghanistan, arguably was driven nuts, as his lawyers assert. His crime is a horror, as we saw from testimony linked into Fort Lewis over the last few days from victims in Afghanistan.  The AP reports:
The stories recounted by the villagers have been harrowing. They described torched bodies, a son finding his wounded father, and boys cowering behind a curtain while others screamed, "We are children! We are children!"
The actions of both of these men represent the real face of the U.S. occupation of Afghanistan, and they need to be thoroughly investigated, with the aim of keeping criminals like this away from people they could kill.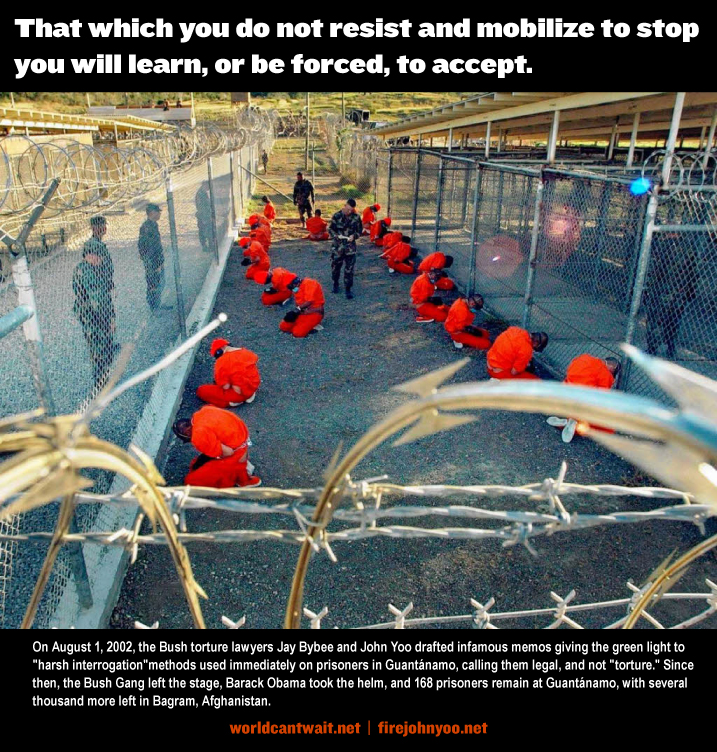 Ten years ago today, lawyers for the Bush Regime sent memos up the chain of command which quickly reached the military and the CIA. The August 1, 2002 "torture memos" authored by attorneys in the Office of Legal Council at the White House gave the green light to torture, calling it "harsh interrogation" and completely legal.
Prisoners in Guantanamo were immediately water-boarded, "walled," put in isolation, deprived of sleep. A few were men the US thought were part of al Qaeda; most of them were just guys sold to the US by someone in Afghanistan for bounty. Almost none of them, it's now admitted, were involved in criminal activity, or even military struggle, against the US. But, they were still "the worst of the worst."
I was reminded of this anniversary by Curt Wechsler, who edits FireJohnYoo.net, a project of World Can't Wait:
The clock is ticking. August 1st marks the 10th anniversary of the adoption of professor John Yoo's "Torture Memos," which sanctioned mental and physical torment and coercion practiced by the state. It's been 9 years since those same documents were found legally defective and withdrawn. The Bush Gang left the stage, Barack Obama took the helm, and 168 prisoners remain at Guantanamo.  These men must not be forgotten, or their stories conveniently swept under the rug for the remainder of this election season.
Amy Davidson, a senior editor at The New Yorker, interviewed Jose Rodriquez, who for 30 years was head of the Counterterrorism Center during his 30 years at the CIA and who recently published a book defending everything done to prisoners, Hard Measures: How Aggressive C.I.A. Actions After 9/11 Saved American Lives.  Rodriguez neatly recounted where the Torture Memos fit:
Over the summer of 2002, when we knew we had to do something different to get information out of Abu Zubaydah, who had been captured a few months earlier, we worked with our lawyers to make sure that we came up with techniques that were within the law. These techniques were vetted with the Department of Justice and the White House—with the policy people and the leadership people at the White House. Then, on August 1, 2002, we received a binding legal opinion in writing from the Justice Department that said waterboarding and nine other techniques we wanted to implement were not torture. We then went to the White House and asked the N.S.C. to give us policy approval to proceed, and for the President to direct us to proceed. And they did. A month later, when the Congress came back to town, we briefed the leadership of the House and Senate committees on intelligence, both Democrats and Republicans. They had no objection.
Which is the point, exactly.  Everyone was in on it; "everyone" now in government has no objections to what happened. John Yoo teaches constitutional law at one of the most highly regarded law schools, Boalt Hall at UC Berkeley, protected, and actually defended by an administration that uses its liberal credentials as a shield against justice. Jay Bybee got a gig as a federal judge, nominated by G.W. Bush and approved by the same Congress which was OK with torture methods as long as they were named harsh interrogation."
And none of the torture team partners has suffered indictment, or even deeply serious investigation by the Obama administration.
I have to add a thanks to Women Against Military Madness in Minneapolis, who are outside the Federal Building in Minneapolis today in an action called Tackling Torture at the Top.
And from Curt Wechsler:
My donation to World Can't Wait today will help send an orange-jumpsuited contingent to the Democratic National Convention to represent the victims of brutal prison policy, and all of us who say NO to torture.
Drones and Guantanamo, owned and operated in a bi-partisan fashion.  But it's the Democrat War party who got people at accept them as "normal" and even legitimate.
Memo from Jay Bybee to Alberto Gonzales
DATE: August 1, 2002
SUBJECT: "Standards for Conduct for Interrogation under 18 U.S.C. 2340 – 2340A"
AUTHOR: Jay Bybee, Assistant Attorney General, Office of Legal Counsel 
In what has become notorious as the "torture memo," Jay Bybee signs off on an opinion authored by John Yoo. The memorandum systematically dismisses numerous U.S. federal laws, treaties and international law prohibiting the use of torture, essentially defining the term out of existence.
Letter from John Yoo to Alberto Gonzales
DATE: August 1, 2002
SUBJECT: N/A
AUTHOR: John Yoo, Deputy Assistant Attorney General, Office of Legal Counsel 
John Yoo writes to White House Counsel Alberto Gonzales warning of potential threats of international prosecution regarding the administration's interrogation policies. Yoo notes that "Interrogations of al Qaeda members … cannot constitute a war crime" because of the Presidential determination that Geneva's protections do not apply.
Memo from Jay Bybee to the CIA
DATE: August 1, 2002
SUBJECT: Memorandum for [REDACTED] Interrogation of [REDACTED]
AUTHOR: Jay Bybee, Assistant Attorney General, Office of Legal Counsel 
Written by the Office of Legal Counsel's Jay Bybee and sent to the Central Intelligence Agency, this heavily redacted document was released to the ACLU in 2008. It details "advising the CIA regarding interrogation methods it may use against al Qaeda members," and in one un-redacted portion, argues that "to violate the statute, an individual must have the specific intent to inflict severe pain or suffering. Based on the information you have provided us, we believe those carrying out these procedures would not have the specific intent to inflict severe pain or suffering."
The political terrain is changing hourly in the Middle East, with governments responding to the peoples' uprising in different ways.  But we're seeing one constant: the U.S. at every point pushes its own interests, regardless of the status of the peoples' rights.
World Can't Wait exists to "stop the crimes of our government." So we should be vigilant.  We've pointed out Washington's deep and long support for repressive regimes across the region, including Egypt, Yemen, Jordan, Saudi Arabia & Bahrain, and also the huge amount of military and political support given to Israel by successive U.S. administrations.  In Bahrain, where the U.S. has a strategic base, Hillary Clinton weakly, and hypocritically, defended the protesters' rights (only days after witnessing prominent anti-war veteran Ray McGovern brutalized during a speech of hers in the US).  As if she and the government she has long represented was unaware of what these regimes do to their people!
In Egypt, protesters showed the lethal tear gas canisters used against them by the government – labeled "Made in the USA." These were just a small fraction of the overall budget of military aid given to Egypt by the US.
In Libya hundreds of people are being slaughtered in the streets by mercenaries.  Though Qaddafi's government has appeared more oppositional to the U.S., the U.S. reestablished full diplomatic relations with Libya, under pressure from U.S. oil companies.  Military aid followed.  But in the wake of the absolutely righteous upsurge of the people against Qaddafi's repression, will the U.S. take the opportunity to install a more compliant government to its own interests?  U.S. military intervention will do no more good in Libya than it's done elsewhere… which is to say: it will be a disaster for the people, but good for U.S. interests in holding onto strategic oil and territory.
In Pakistan, there's news of the first drone strike in a month, this one killing civilians: US Drone Strikes Kill 15 in Pakistan.
The Washington Post reported yesterday on the last years of U.S. drone bombings:
Despite a major escalation in the number of unmanned Predator strikes being carried out under the Obama administration, data from government and independent sources indicate that the number of high-ranking militants being killed as a result has either slipped or barely increased. Even more generous counts – which indicate that the CIA killed as many as 13 "high-value targets" – suggest that the drone program is hitting senior operatives only a fraction of the time.
While the CIA contends they've killed just 2 civilians, the article goes on to say:
The New America Foundation estimates that at least 607 people were killed in 2010, which would mean that a single year has accounted for nearly half of the number of deaths since 2004, when the program began. Overall, the foundation estimates that 32 of those killed could be considered "militant leaders" of al-Qaeda or the Taliban, or about 2 percent.
Glenn Greenwald looks at the CIA's role in Pakistan.  In This week in winning hearts and minds, he describes Raymond Davis, the ex-Special Forces, current CIA operative held in Pakistan for personally killing 4 Pakistanis in an incident on the street, and:
The State Department first said he worked for the consulate, not the embassy, which would make him subject to weaker immunity rights than diplomats enjoy (State now says that its original claim was a "mistake" and that Davis worked for the embassy).  President Obama then publicly demanded the release of what he absurdly called "our diplomat in Pakistan"; when he was arrested, Davis "was carrying a 9mm gun and 75 bullets, bolt cutters, a GPS unit, an infrared light, telescope, a digital camera, an air ticket, two mobile phones and a blank cheque."
There's a major diplomatic crisis over Davis between Pakistan, and competing forces within its government, and the U.S. government.  Greenwald describes the complexity for the U.S.:
There's the gross hypocrisy of the U.S. State Department invoking lofty "rule-of-law" and diplomacy principles under the 1961 Vienna Convention on Diplomatic Relations — the very same State Department that just got caught systematically violating that convention when WikiLeaks cables revealed that U.S. "diplomats" were ordered to spy on U.N. officials and officials in other countries.  Then there's the delusional notion — heard mostly from progressives with romanticized images of the State Department — that WikiLeaks' release of diplomatic cables was terrible because it's wrong to undermine "diplomacy" with leaks, since the State Department (unlike the Big, Bad Pentagon) is devoted to Good, Humane causes of facilitating peace.  As this episode illustrates, there's no separation among the various arms of the U.S. Government; they all are devoted to the same end and simply use different means to accomplish it (when the U.S. Government is devoted to war, "diplomatic" functions are used to bolster the war, as Colin Powell can tell you).
These crises can help sort out the interests of the governments from the interests of the people.  In supporting the courageous people across the Middle East who are fighting repression, we are challenged to look at our own government.  I come back to the Not in Our Name Pledge of Resistance:
…Not in our name
will you wage endless war
there can be no more deaths
no more transfusions
of blood for oil…