Posts Tagged Carl Dix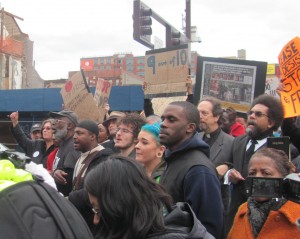 The mass civil disobedience led by Carl Dix and Cornel West on Friday tapped into a deep well of rage and anger at the racial profiling by the NYPD which is concentrated in "stop and frisk."  Carl and Cornel were joined by 34  locking arms in front of the 28th Precinct, and hundreds more in support, including a contingent from Occupy Wall Street, based on a unanimous decision at Thursday's General Assembly to endorse the action.
We marched through the streets of Harlem, greeted by fists pumping and smiles.  This mass resistance could potentially change how people respond to systematic racial profiling, an issue which is going to be fundamentally decided in the streets, with a diversity of people putting something on the line.
Dix and West see Friday's action as the first of a new stage of mass resistance to "stop and frisk," as a door to exposing and fighting the New Jim Crow.  There will be no stopping mass racial profiling without mass resistance.  It has begun.
The action resonated because it hit on a profoundly sharp and deeply entrenched, politically explosive contradiction of the all around criminalization and mass incarceration of Black & Latino people, one that touches to the very core of what this country is about and what holds it together, or could tear it apart (and which has historically done so).  The police lashed out, and held two young organizers who had spoken in many schools, both of whom were not  released until Saturday night on charges of resisting arrest.
Carl Dix was the featured speaker at the October 22nd march to stop police brutality from Union Square to the LES with close to 1,000 marchers, bolstered by Wall Street occupiers.  Carl, joined by Cornel, has been speaking to thousands around the country, calling for a movement of resistance to stop these policies.
From Carl, in the Huffington Post Black Voices, Why I Am Getting Arrested Today
This policy is wrong. It is illegal, racist, unconstitutional and intolerable! It is just one of the many pipelines into the wholesale mass incarceration of a generation of Black and Latino youth. Today there are more than two million people held in prison in the U.S. That is the largest prison population in the world! And its not just men; more than one third of all women imprisoned in the entire world are in prison in the U.S.
Along with Carl and Cornel, the core group of those arrested were Rev. Stephen Phelps of Riverside Church; Rev. Earl Kooperkamp of St. Mary's Episcopal Church in Harlem; Jim Vrettos, a professor of Sociology at John Jay College of Criminal Justice; and myself and Elaine Brower of World Can't Wait.  We were joined by students from CCNY, Columbia & Barnard; Wall Street Occupiers and, very importantly, people who have been victimized by "Stop & Frisk."  8 of us planned to be arrested; the fact that 26 more joined on the spot shows the potential of this as a beginning of mass action.
75 people met in Harlem on Sunday to plan the next phase of the campaign.  More on that soon!  Join in at stopmassincarceration@ymail.com.  See http://stopmassincarceration.tumblr.com/  And here it is:
Tuesday November 1: Stop 'Stop & Frisk' Direct Action
Tuesday, November 1, 2011 – 4:00pm – 7:00pm
NYPD 73rd Precinct, 1470 East New York Ave, Ocean Hill – Brownsville, Brooklyn
973-756-7666, stopmassincarceration@ymail.com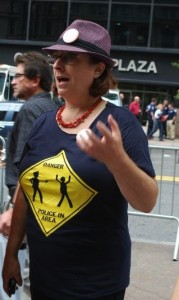 On Friday, October 21st, I plan to join in a non-violent civil disobedience action as part of a new and very important, courageous, campaign to stop "Stop and Frisk."
I am answering a call issued by Cornel West and Carl Dix to engage in non-violent civil disobedience to stop this illegal policy of the New York Police Department.   Carl and Cornel say:
The NYPD is on pace to stop and frisk over 700,000 people in 2011! That's more than 1,900 people each and every day. More than 85% of them are Black or Latino, and more than 90% of them were doing nothing wrong when the pigs stepped to them…WE ARE STOPPING ALL THIS.  YOU MUST JOIN US IN DOING THAT.
To be clear, I have never been stopped or frisked by the New York police solely because of my appearance, as 1,900 men are, every day, according to the New York Civil Liberties Union, who is also fighting "stop and frisk."  I haven't been thrown up against a wall, detained, questioned or jacked up solely because I fit a vague description. But, I don't want to live in a city where people have to go through this.
I have been arrested over the years, but so far, solely in the process of protesting injustices ranging from U.S. wars of occupation to murders by police, or the targeting of abortion providers by people who wanted to kill them.  I believe people have to take action to stop injustice.
That's exactly why I'm joining Carl, Cornel, Rev. Earl Kooperkamp, Rev. Stephen Phelps, Rev. Omar Wilks, and others in an action to stop the NYPD from what they say is a practice which is "illegal, racist, unconstitutional and intolerable."
Carl Dix, interviewed today in Revolution, described why he, Cornel and others decided that mass resistance to "stop and frisk" is necessary
The intensifying brutality being enforced in the inner cities is like a slow genocide that could be accelerated.  This must be met by unleashing resistance that is broader, fiercer and more determined.  And unleashing this kind of resistance around Stop and Frisk in NYC on October 21 and nationwide on October 22 would have a powerful positive impact on the situation.  It could speak to very real questions people have.  It can bring to the people occupying Wall Street a sense of how the police brutally enforce inequality and oppression 24-7 in the ghettos and barrios across the country.  And it can address the question many oppressed people have of whether there are any forces that would stand together with them in fighting the hell the system brings down on them or are they alone in this fight.  This resistance could contribute to creating a sense that things really don't have to be this way among a diverse and growing section of the people.
So, all of you who want to do some good, who feel beaten down, or who feel unstoppable, join this action in some way.
Follow @StopMassIncNet on Twitter.
Send a support statement to debrasweet@worldcantwait.net.
Join us in taking the action, or come along to cheer us.  As the call says
If you are sick and tired of being harassed and jacked up by the cops, JOIN US. If you have had enough of seeing your brothers and sisters, your cousins, your aunts and uncles and fathers stepped to and disrespected by the cops, JOIN US. If you don't want to live in a world where people's humanity is routinely violated because of the color of their skin, JOIN US. And if you are shocked to hear that this kind of thing happens in this so-called homeland of freedom and democracy—it does happen, all the damned time—you need to JOIN US too—you can't stand aside and let this injustice be done in your name.
Recently, during a snowy travel delay, a relative gave me John Irving's A Prayer for Owen Meany, her favorite, for stand-by reading.  I did not intend to write about it, but with all the hype around the centenary of Reagan's birth, I noticed a passage where the protagonist, a Vietnam war resister who settled in Canada, brought the terrible Reagan years back for me:
Just the day before yesterday–January 28, 1987–the front page of The Globe and Mail gave us a full account of President Ronald Wilson Reagan's State of the Union Message.  Will I ever learn?  …After almost twenty years in Canada, there are certain American lunatics who still fascinate me.

"There must be no Soviet beachhead in Central America," President Reagan said.  He also insisted that he would not sacrifice his proposed nuclear missiles in space–his beloved Star Wars plan–to a nuclear arms agreement with the Soviet Union.  He even said that 'a key element of the U.S. Soviet agenda is 'more responsible Soviet conduct around the world'–as if the United States were a bastion of 'responsible conduct around the world.'

I believe that President Reagan can say these things only because he knows that the American people will never hold him accountable for what he says; it is history that holds you accountable.
Irving's character goes on to detail the uprising of protest against Vietnam, as a participant:
Was twenty years ago so long for Americans?…Ronald Reagan had not yet numbed the United States.  But he had put California to sleep; he described the Vietnam protests as 'giving aid and comfort to the enemy.'
We called him Ronnie Ray-gun.  The 80′s was a terrible decade, beginning with Ronald Reagan's election as the president to repudiate "the 60′s." Carl Dix, a real-life resister of the Vietnam War, wrote in 1985:
The United States of America appears to have gone totally mad. It screams that its `hesitancies' and `self doubts' left over from Vietnam are dispelled. `We won't be pushed around any more!' Official America brims with unapologetic self-love.  Amid a reborn worship of `free enterprise,' the proletarian, the poor, the non-white are openly scorned as `losers' who have somehow personally failed to take advantage of the `limitless opportunities' in the `land of the free.' Classic American know-nothingism is back in vogue. `Traditional social roles,' especially for women and youth, are exalted and increasingly enforced.  Backwater religious fanatics are handed respectability and influence. Submissiveness, motherhood, unthinking obedience are watchwords of the times.
The overwhelming Reagan defeat of Jimmy Carter was engineered by intense intrigue and the secret Republican plan to block the release of U.S. hostages held in Iran until after the presidential election.  Robert Parry, who's done as much research on Reagan as anyone, recounts the story in The October Surprise archives on his site.  Reagan's presidency was marked by U.S. interventions over much of the world and the placement of hundreds of missiles in Europe, threatening nuclear war with the Soviet Union.
Reagan sent millions of dollars, secretly, to the pro-U.S. "contras" working to overthrow the Nicaraguan government, through a complicated deal in which Israel supplied weapons to forces in Iran, producing the money Reagan secretly sent to the "contras" to avoid Congressional restrictions.  This was  later known as the "Iran-Contra" affair.  It's worth reviewing.
There were hearings, and a few people like Oliver North did a little time, but impeachment and charges against those high up in the government were suppressed, providing an example for a later compliant Congress to fail to challenge the George W. Bush regime, even as Bush appointed key players from Iran-Contra such as John Negroponte and Elliot Abrams.
Parry, whose reporting at the time uncovered a lot about Iran-Contra, considers the October Surprise / Iran Contra scandals to be:
the missing link in a larger American political narrative covering the sweep of several decades, explaining how the United States shifted away from a nation grappling with epochal problems, from energy dependence and environmental degradation to bloated military budgets and an obsession with empire.
Interviewed here on Reagan's legacy, he writes this week  in Ronald Reagan, Enabler of Atrocities of the decade "many atrocities in Latin America and elsewhere that Reagan aided, covered up or shrugged off in his inimitable 'aw shucks' manner."
Amid all the extravagant hoopla and teary tributes to the late president, perhaps some Americans will stop and think of all the decent people in Latin America and elsewhere who died horrible and unnecessary deaths as Ronald Reagan cheerily defended their murderers.
There are other things we can never forget nor forgive:
When thousands were dying of AIDS, Reagan would not say the word until 1987, after 21,000 Americans had died of it, and lowered the federal budget to fight it.
"My fellow Americans, I'm pleased to tell you today that I've signed legislation that will outlaw Russia forever.  We begin bombing in five minutes."  Reagan's chilling "joke," before a radio broadcast, August 11, 1984

In 1974 Governor Reagan bitterly denounced huge crowds of poor people who excitedly showed up to get free food that the Hearst Corporation had been forced to distribute by the SLA kidnapping of Patty Hearst. Reagan said: 'It's just too bad we can't have an epidemic of botulism.'  see The Crimes and Times of Ronald Reagan.

After getting the nomination in 1980 he praised 'states rights' in his first speech–made in Philadelphia, Mississippi, known for the 1964 Klan murder of three young civil rights workers.
Anyone paying attention has been aware that the outrages of U.S. aggression didn't begin with the Bushes, but it's important to remind people now that Poppa Bush's immediate predecessor in the White House has plenty of war crimes to account for, posthumously.
A final fitting tribute to Reagan is Bob Dylan's song, written well before Reagan's presidency.
Masters of War
A song by Bob Dylan
You that never done nothin'
But build to destroy
You play with my world
Like it's your little toy
You put a gun in my hand
And you hide from my eyes
And you turn and run farther
When the fast bullets fly
Like Judas of old
You lie and deceive
A world war can be won
You want me to believe
But I see through your eyes
And I see through your brain
Like I see through the water
That runs down my drain.
And I hope that you die
And your death'll come soon
I will follow your casket
In the pale afternoon
And I'll watch while you're lowered
Down to your deathbed
And I'll stand o'er your grave
'Til I'm sure that you're dead.
See Robert Parry's three-book set: Lost History, Secrecy & Privilege and Neck Deep: Let's Get the Truth Out on the Bushes, and Ronald Reagan.