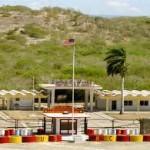 Thursday evening, World Can't Wait's regular national conference call will feature a discussion with Candace Gorman, attorney for Guantanamo prisoners and Adviser to War Criminals Watch.
Candace represents prisoners still held in Guantanamo, 2.5 years after the Obama administration said it would have been closed.  She has just returned from a visit there, and will give us not only the latest news, but her perspective on her years-long efforts to get her clients released.
Anyone concerned about the "rule of law" and the National Defense Authorization Act should join in this60 minute conversation.
Thursday Dec. 15
10 pm EST / 7 pm PST
Read  Candace at GTMOblog.
Write for details to join  the call.