Over an intense week protesting the beginning of the 10th year of the U.S. prison at Guantanamo, I continued to learn more.  The situation for the 173 men there is changing, though not towards a just resolution.
After nine years, it got through to me that use of the word "detainees" indicates something impermanent, as if one is "detained" doing an errand.  The men have been imprisoned; they are prisoners.  So we shall call them prisoners and released prisoners.
Many thanks to Andy Worthington for coming to the U.S. last week, speaking and talking with all us involved in trying to end the U.S. regime of indefinite detention, based on torture begun by the Bush regime.  His attention to the cases of 774 men, and grasp of the prison's history is remarkable.  You can see and support his work here.
Protests last week centered on the demand that Guantanamo be closed, with justice.   A statement still circulating to that effect is here.  Groups in other cities, and 100 fasters around the country, continue to speak out.  World Can't Wait in Chicago is sponsoring an event January 25 at DePaul University with Dr. M. Cherif Bassiouni, attorney Candace Gorman, and myself.
Thanks to Witness Against Torture, leading an ongoing fast for justice through January 22, two years from the day Barack Obama promised to close Guantanamo.  Thanks to the attorneys who have defended the prisoners, too numerous to name here, and who shared their sense of outrage with us.  And to the Center for Constitutional Rights and Amnesty International for a dramatic and intense protest Tuesday January 11 in front of the White House, and later at the Department of Justice.
The voices of the former prisoners — who of course could not be with us at the protest, as they are still considered "enemy combatants" though they were never charged — came through.  Omar Deghayes, who speaks so movingly in the film Outside the Law: Stories from Guantanamo, sent a message read in front of the White House by Kathy Kelly: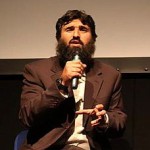 …This past December 19th just marked three years to the day that I tasted freedom again and was released from Guantánamo to the warm embrace of my family and the community who fought so hard for my freedom. But not a day has passed since in which my thoughts and prayers have not remained with the 173 men who continue to languish in Guantánamo, detained without trial, most of them not facing any charge, and entering their tenth year of being separated from their loved ones. 90 of these men have actually been cleared for release long ago…
Andy Worthington explained to the hundreds of people standing in the street before the White House, what's happened to the 173 men left.  In a piece that summarize the pace of closure, Guantánamo Forever? makes the case that the Obama administration, as indicated back in May 2009, is making indefinite detention a permanent feature:
…it is reasonable to propose that Guantánamo is now a permanent institution for a variety of reasons. The first concerns a number of cynical moves by lawmakers in recent months, inserting provisions into a military spending bill that are explicitly designed to keep Guantánamo open — a ban on using funds to transfer Guantánamo prisoners to the U.S. mainland to face trials, a ban on using funds to buy or build a prison on the U.S. mainland to hold Guantánamo prisoners, and a ban on the release of any prisoner cleared for release by the President's interagency Guantánamo Review Task Force (composed of representatives of government departments and the intelligence agencies) to countries considered dangerous by lawmakers — including Afghanistan, Pakistan and Yemen…
Andy looks further into this situation in Nine Years Later: The Political Prisoners of Guantanamo, showing some of the complex factors behind the paralysis.  An even larger group of prisoners are held in Bagram, at the U.S. air base, in what the U.S. argues is a "war zone" so that the prisoners may not have habeas corpus, echoing the Bush regime of 5 years ago.  Military tribunals, or "commissions" have been widely derided as unjust.  Obama says some of the prisoners are "too dangerous to release" or to try.  Is it that what would come out in court would be too revealing of the illegitimacy of the war on terror?  And concludes
Until these problems are solved and the Guantanamo prisoners are either tried or released, President Obama's contribution to this bitter legacy of the Bush administration is to be presiding over the unthinkable: a prison where, however the prisoners have been designated, they are almost all held in indefinite detention and are, indeed, political prisoners.
Over the next year, we will experience the ten year anniversaries of 9/11, the PATRIOT Act, the attack on Afghanistan, and the opening of Guantanamo.  We have something to say now, and over the next year, about whether the outrages associated with the Bush years continue along, or are sharply opposed by more and more people.
World Can't Wait began its Call to Drive Out the Bush Regime in 2005 with:
YOUR GOVERNMENT, on the basis of outrageous lies, is waging a murderous and utterly illegitimate war in Iraq, with other countries in their sights.

YOUR GOVERNMENT is openly torturing people, and justifying it.

YOUR GOVERNMENT puts people in jail on the merest suspicion, refusing them lawyers, and either holding them indefinitely or deporting them in the dead of night.
And we ended it with, "The future is unwritten.  Which one we get is up to us."