"You are the most charming torture author I've ever met." – Jon Stewart to John Yoo.
Isn't the key part of that sentence "torture?" Yoo, indeed, provided the legal justification necessary for the torture that defined the Bush years (and in fact, continues under Obama today).
Watch the video: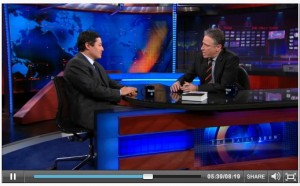 John Yoo restrained himself from publicly announcing that the President can "crush the testicles" of the child of someone suspected of terrorism on this influential show, and bantered in a friendly way with Jon Stewart.
But neither that restraint, nor Stewart's recommendation that people read his book for insight into the "human struggle" the Bush regime was engaged in, nor Stewart's plea not to "demonize" Yoo can cover up the trail of blood that leads to this "esteemed" Berkeley law professor's door. Torture (which, as used by the U.S. over the past 8 years has meant: beatings, hanging people from ceilings, or chained to the floor in stress postions for hours or days, force-feedings in the most gruesome ways possible, extreme heat and cold, blinding people, locking them in boxes with insects, and the known deaths of more than a hundred detainees) is against U.S. and international law, and shocks the conscience of anyone with any humane ethics. The lawyers who crafted the torture memos were not just working for their clients. They are war criminals.
Josh Richman, on Political Blotter, the Bay Area Politics blog quotes Stephanie Tang, from World Can't Wait in San Francisco in Protestors can't find Yoo, but Jon Stewart did
"We continue to call for Yoo to be fired, disbarred, and prosecuted for war crimes, along with his entire cohort from the Bush-Cheney Torture Team," World Can't Wait organizer Stephanie Tang said in a news release. "Torture is a war crime. Thousands have been tortured thanks to John Yoo's work for the White House, long after Yoo himself returned to teaching. The faculty and students right here at UC – and all people of conscience everywhere — need to denounce these crimes, not turn away in silent complicity."
Yoo continues to travel the country promoting his book. Today, he'll be protested on both sides of the country… at his scheduled first day of class in Berkeley, and in NYC at his book event. You can join us!
Watch this blog for coverage of the protests.